Let's face it — once you have a smartphone, it runs your life.
If we aren't careful though, it can destroy our productivity.  Our phones often become huge time sinks, and yet we wonder why there's no battery left when we want to make a phone call.
But what if we used our phones as tools to help us stay healthy?  There are plenty of health apps out there, but here are some free ones to get you started.
Exercise Your Brain
There are many ways to exercise your brain, but one of my favorite is languages.  And the best free app out there to help you learn a language is Duolingo.
They are continuing to add more language courses over time.  Right now you can learn: Spanish, English, French, German, Portuguese, Italian, Dutch, Swedish, Russian, Irish, Turkish, Danish, Norwegian, Polish, Esperanto, Ukrainian, Hebrew, Welsh, Vietnamese, Hungarian, Greek, and Romanian.  Other languages coming soon include Czech, Swahili, Hindi, Korean, Indonesian, and of course, Klingon.
Download for Android | Download for iPhone
Give Your Eyes A Break
Staring at a little phone screen all day can cause a lot of eye strain.  In fact, any kind of screen will do that.  And we stare at screens all day!
Studies have shown that exposure to blue light (which we naturally would only get in daytime) can throw off our circadian rhythms, making it harder to fall asleep.  One of the ways to counteract this is to use the Twilight app (called Candlelight on iPhones), which makes your device screen adapt to the time of day.
That means the blue spectrum of light will be filtered out after sunset, and protects your eyes with an appropriate color filter.  If you tend to use your devices right before bed, this will help you be able to fall asleep more quickly.
Download for Android | Download for iPhone
Check Your Diet
If you're trying to watch your diet, your efforts will be futile if you don't know anything about what you are eating.  I admit, I'm one of those people that has no clue how many calories there are in food.
Fortunately, there's an app that makes it easy to keep track of what you are eating.  The MyFitnessPal Calorie Counter app is a great way to see how many calories are in specific foods (it has a huge database of items, ranging from groceries to specific restaurant dishes).
Whether you want to lose, maintain, or even gain weight, this app will help you manage your diet to help you reach your goal.
Download for Android | Download for iPhone
Go For A Run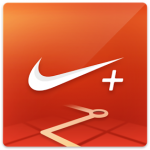 Running is a fantastic exercise — and it's even better when you do it regularly.  And it's easier to feel like you are improving when you have an app to monitor your progress and encourage you along the way!
The Nike+ Running app lets you time your runs, map them, set goals, and connect with friends (if you want).  It will congratulate you when you reach certain milestones, and it will remind you to go running if you've missed a day.  It's a little like having your own personal running coach!
If you need help staying motivated to run, this app is the way to go.
Download for Android | Download for iPhone
Step Up The Intensity
If you want to step up your exercise regiment, then you could use a High Intensity Interval Trainer (HiiT) app.  This helps facilitate a certain type of cardiovascular training, where you alternate between short sessions of intense anaerobic exercise with less-intense recovery periods.
Interval training is great for when you don't have as much time to devote to exercise each day, and it's a great way to lose weight or gain endurance.
The app allows you to create custom intervals for different exercises.  One example would be the 7-Minute Workout, or you can even use the intervals for sprint fartleks.
Download for Android | Download for iPhone
Get Started!
With these helpful apps on your smartphone, it should be easier to take charge of your health!
What other apps do you use to stay healthy?  Please share them in the comments below!